Green Oxygen Line Ptfe Tape
Green Oxygen Line Ptfe Tape, is a heavy-duty, premium-density tape that permits quick, clean and economical sealing of threaded pipe connections. Its premium density makes it ideal for oxygen lines and other applications requiring the best possible seal. The tape is made of 99.5% virgin PTFE (a pigment is added for coloring) PTFE, with only a pigment additive for coloring. Its green color helps to distinguish it from lower density, general purpose thread sealant tapes.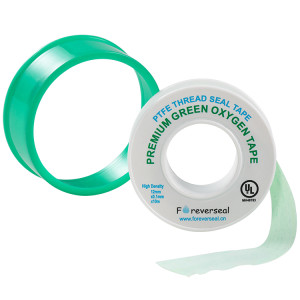 Green oxygen ptfe tape is maximum density for critical Oxygen service sealing applications.